THE NEW LIFT3 F
LIFT MORE, SPEND LESS
The ultra easy-to-ride eFoil, updated so you can fly longer, and smoother, and at a new low price of $8,995
Get yours before summer!
SCROLL DOWN FOR MORE INFORMATION OR CONFIGURE NOW
THE NEW WAY TO FLY
Fun, easy to ride, and accessible. With our LIFT3 F, we took a new approach to our industry leading eFoils–working with fiberglass boards to offer stability over performance, at a new low price.
HOW IT WORKS
Lift's eFoil technology combines a state-of-the-art battery, a custom shaped, ultra-durable aerodynamic board, our next-generation propulsion system, carbon fiber hydrofoil components, and a Bluetooth hand controller for the ultimate watersports experience.
Propulsion
The LIFT3 F features our brushless motors, designed and manufactured by the absolute best engineers in the industry, allowing for speed and ride stability.
Propeller
The New LIFT3 F features theLift FRP (fiber reinforced polymer) propeller–experience increased efficiency, reduced drag, and dampened vibration with our new tapered propeller hub design.
Hand Controller
Our ergonomic wireless Bluetooth hand controller easily shows battery life, and allows riders to swap intuitively between speed and performance settings.
TWO VERSATILE SIZES
Available in the versatile 5'4″ & 4'9″ sizes–perfect for sharing the efoil experience.
TWO NEW VIBRANT COLORS
Two all new standout colors–Iceberg Blue & Sunset Peach.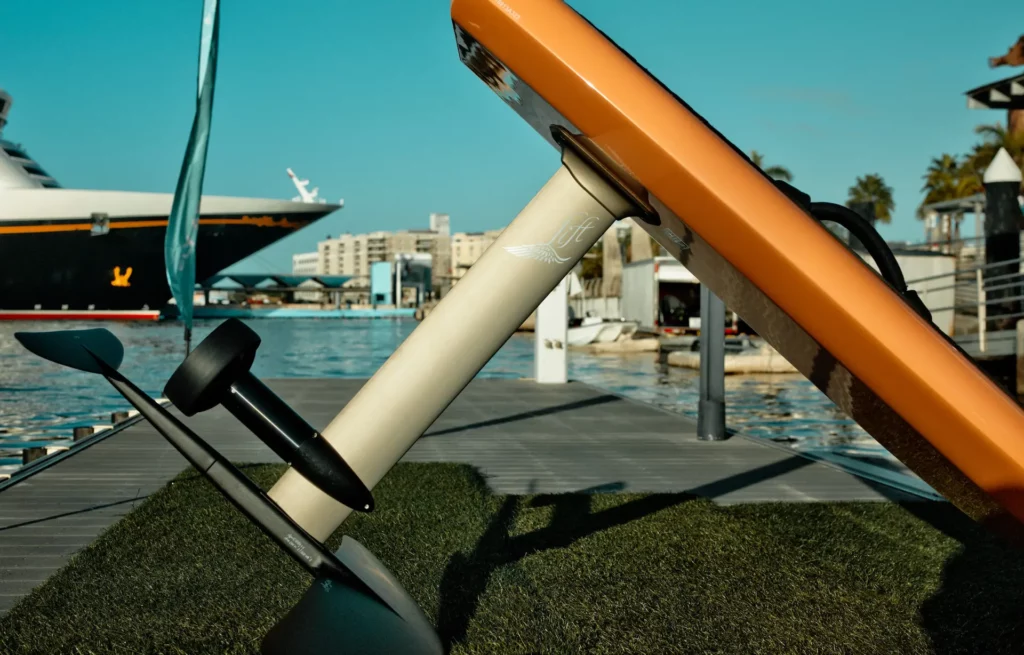 UPGRADED HARDWARE
The 28″ precision aluminum mast and your choice of popular carbon fiber front and back wings.
LIFT3 F CONSTRUCTION
The LIFT3 F features a proprietary fiberglass blend – tiny strands of fiberglass melted down into an ultra-sturdy material, crafted by Lift's engineers into the perfect aerodynamic shape for hydrofoiling.
This new form factor offers a stable ride that newer riders and families will greatly appreciate. The new LIFT3 F features a signature 28" precision milled aluminum mast, and Lift's efficient carbon fiber front wings and back wings.
ADVANCED BATTERY TECHNOLOGY
Our Light Battery significantly reduces weight and cost, while still offering a great riding experience, and the LIFT3 F ships with our new fast charger.
The "Light Battery" is a custom lithium-ion battery built for rugged marine environments that offers 60 minutes of ride time and weighs 7 pounds less than the "Full Range Battery", making it easier to transport your eFoil.
The Full Range Battery offers 100 minutes ride time, and you can easily explore around with no stress. Batteries are interchangeable and compatible with all generations of the Lift eFoil.
Ride with Confidence
The Lift eFoils Experience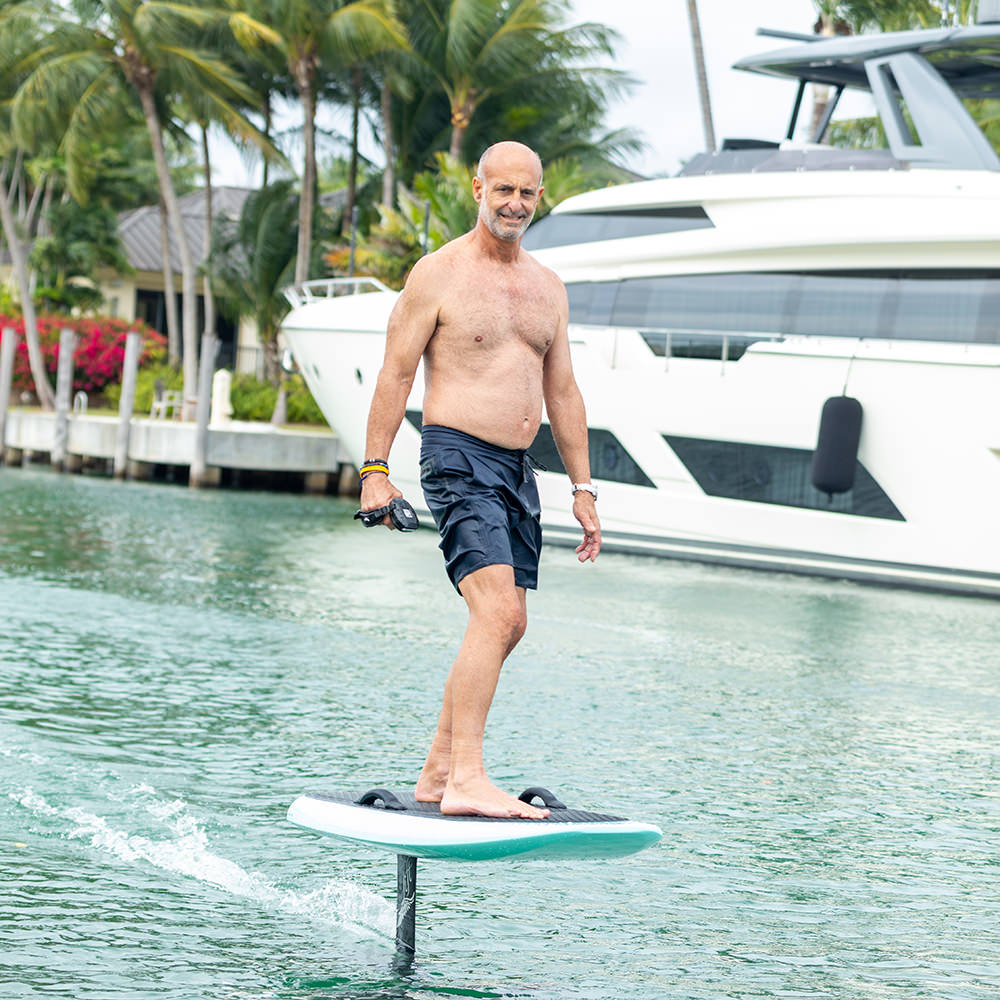 Ready to ride?
Boards in stock and ready to go!
Lift 3F eFoil
Starting at: $7,995.00
Experience surfing's newest frontier with the Lift 3F- the original electric hydrofoil surfboard and the world's smallest personal watercraft, now in a more affordable fiberglass body with two battery options. No wind? No waves? No problem. Over a decade developing and fine-tuning the ultimate foiling experience.
Whether you're a complete beginner or an experienced thrill-seeker, into serene lakes or riding big surf, the Lift 3F eFoil allows you to craft the adventure that's best for you with an all-electric, silent motor that glides through any body of water at up to 30+ mph.
LIFT MORE, SPEND LESS
Meet the newest member of our family and enjoy endless rides starting at $8,995! $7995 with the Lift end of Summer sale! Ends September 18th.