Dive Blu3 Nomad
Starting at: $1,799.00
Dive Blu3 Nomad is a battery powered air-supply buoy for diving that delivers you compressed air from the surface through a 40-foot long hose as you breathe underwater. Extremely compact and user-friendly, Nomad provides 45-60+ minutes of dive time per battery, depending on diver usage.
*Diveblu3 requires an E-waiver to be completed prior to shipping. Once checked out we will provide the unit Serial number needed via email.
PORTABLE ELECTRIC DIVING IS HERE!
HIGHLIGHTS
Lightweight and Portable
Free Online BLU3 Dive Training Course
Airplane-Travel Friendly
Low Battery Pulsation Behavior
SPECIFICATIONS
Weight: 15 lb /7 kg
Max-Depth: 30 Feet / 9 Meters
Run Time: 45-60 minutes Per Battery
Battery Charge Time: 3 Hours
ACCESSORIES
Dry Bag Float Included
BLU3 Backpack Included
Removable Battery Packs Sold Separately
Reserve Air Tank Sold Separately
Portability

Similar to Nemo, our Nomad dive system is ultra portable, but allows the diver to explore depths of up to 30 feet.
Fast Battery Replacement
Switching out the Nomad battery takes about 20 seconds and gives you an extra 45-60 minutes of dive time.
Dry Bag Float

The Nomad dive system comes complete with a dry bag float which offers waterproof storage, 40lbs of buoyancy and is visible to boaters.
Dive Deeper with Nomad
Nomad is a battery-powered tankless diving system that floats on the surface like a buoy and delivers you compressed air through a hose as you breath underwater to a maximum depth of 30 feet. Battery run time is typically about 45-60 minutes and spare batteries can be swapped in for extra dive time with ease.

Nomad is extremely user-friendly and portable. You can even fly with it! Travel around and explore the underwater world with Nomad, hassle free.
Take Nomad On Your Next Adventure
Compact and lightweight, Nomad offers everything you want from a portable dive system. Now you can explore deeper, without the hassle of coming up for air every few minutes. Nomad is for experienced divers who want the convenience and simplicity of Nemo but the depth performance for diving deeper reefs, shipwrecks and more.
Nomad Is Best For Experienced Divers
Whether you're diving Nemo or Nomad, make sure you take the BLU3 Online Dive Training Course before diving. With a maximum depth of 30 feet, Nomad is best for experienced divers. We strongly recommend diving with a Spare Air (add on from the dropdown) and getting SCUBA certified to further your diving skills.
The Nomad Design
Nomad is a compact and user-friendly diving system, designed and assembled in Florida, USA! Included with your purchase is the BLU3 Backpack, making storage and transportation a breeze.
TANKLESS DIVING DESIGNED FOR EXPERIENCED DIVERS
Spend more time underwater with 45-60 minutes of battery charge time. Purchase additional batteries and easily swap in to go for another dive.
DESIGNED WITH APPLICATION IN MIND
Durability is key. Nomad's proprietary air pump withstands saltwater intrusion without damage. All of Nomad's parts are corrosion resistant and simple to maintain.
DESIGNED WITH SAFETY IN MIND
Safety is always our priority. Our BLU3 Online Dive Training Course prepares experienced divers for new underwater adventures with Nomad.
DESIGNED WITH QUALITY IN MIND
Nomad is assembled in Pompano Beach, Florida from raw materials, where we take quality seriously.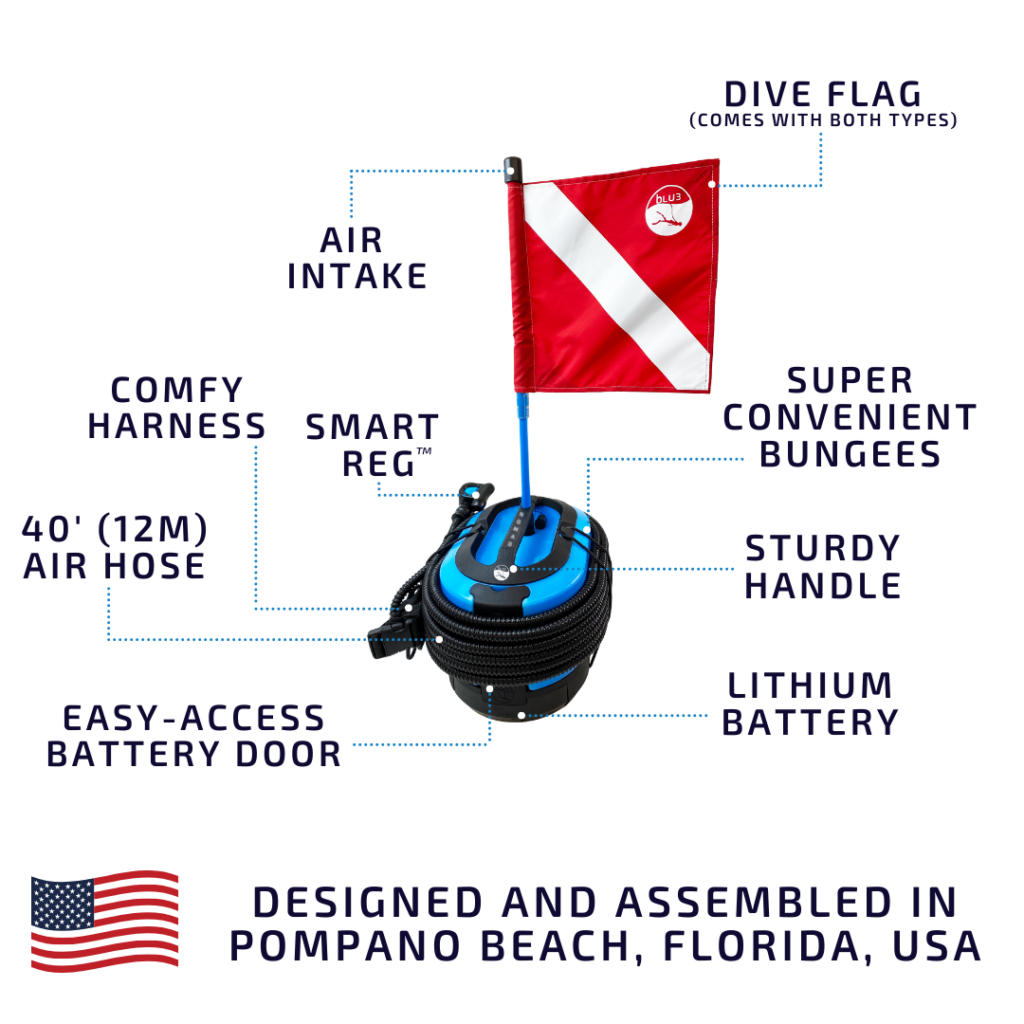 The Smart Reg™
What allows Nomad to be so compact, energy-efficient, and responsive is Blu3's patented Smart Reg™ – the first of its kind!
Here's how it works: A silicone diaphragm inside the Smart Reg™ moves when the diver breathes. A waterproofed sensor measures the diaphragm movement – it then sends an electronic signal which triggers the compressor to pump air at exactly the time and speed that the diver is inhaling.
The Compressor
With deeper depths, higher pressure and flow rates are required for diving. Our custom compressor designed by our team in Florida, USA has been customized to fit this application. For example – even if you accidentally get saltwater inside your pump, no damage will be done. Just rinse freshwater through. Don't try that with any other compressors!
Nomad's flotation shell surrounding the compressor gives the unit inherent buoyancy without the need for a flotation tube. The flotation shell is rotomolded from hard, durable plastic and filled with foam so that it's unsinkable. That being said, you should use the Dry Bag Float whenever you dive for additional buoyancy, stability, and visibility.
The Battery Pack
Nomad is powered by a custom lithium-ion battery pack that is swappable and rechargeable. The pack and connector are IP67-rated to handle saltwater environments. It's 144 Wh, so it is allowed in carry-on luggage on most airlines! A charge-level indicator is located right on the battery itself so that you can always check your battery level. Be sure to grab a few extra packs so that you can dive all day long!
Dry Bag Float
The Dry Bag Float provides buoyancy, visibility, and waterproof storage for dry items. It has two air reservoirs that can be inflated by mouth with ease to provide 44 lb of buoyancy. It's bright color will help notify surrounding boaters of your location. Store dry items inside the waterproof compartment while you enjoy your dive with Nomad.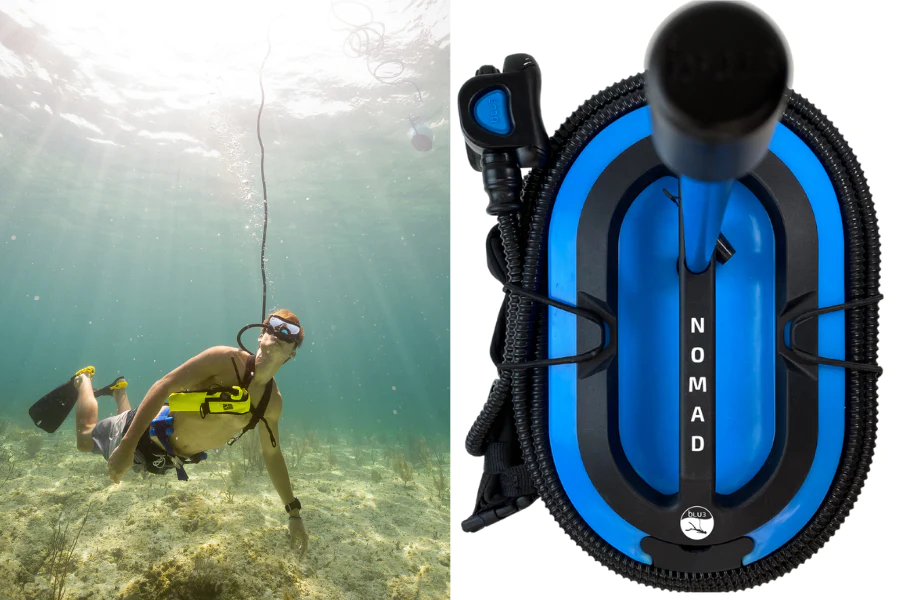 The Air Hose
Nomad's 40-foot air hose is the perfect balance of weight, flexibility, and durability. The coils prevent the hose from kinking and make it super easy to handle. Bungee the hose up for easy storage. (Hose is longer than max depth to allow for more scope, making Nomad easier to tow while diving at max depth).
The Backpack
Take Nomad with you to new dive spots around the world with the BLU3 Backpack, designed specifically to make carrying Nomad or Nemo and the rest of your gear as easy as possible.